It's that time again...I'm raising my hand and walking to the front of the class for our weekly Show and Tell tradition. Stop by
Mel's place
to see what the rest of the class is sharing...
As for me, I'm sharing love, smiles and romance (fair warning: this post may be sickeningly sweet in a few places). That's right...our 5th anniversary vacation!! Just to paint the picture completely, you should know that we got married in 2004 and honeymooned at Disney World and Las Vegas (working for an airline has a few perks...). Mere months after that, we moved to Minnesota, many miles and states away from any family. For the the four years that followed "vacations" involved visiting family...something we love to do, but we were also yearning for the "throw caution to the wind, no one's schedule but our own, romantic hotel room"-type vacation!
Fast forward to May 2009. We had recently moved to Texas and were within driving distance of most of our family. The family that was farther away were already in the process of moving closer. All was finally right with the world. Hubby also happened to have amassed a mile-high collection of Marriott points during the relocation. With our fifth anniversary right around the corner, the stage was set for our first true vacation in five years! No one had to twist my arm to say "HECK YEAH!!!" to the idea of a three day weekend in San Antonio at the Marriott Rivewalk! I couldn't think of a better way to celebrate five years married to my soulmate...just the two of us, a hotel room with a beautiful view, a balcony that overlooked the city, the Riverwalk to discover, and no agenda other than enjoying each others company!
So, here are some pics from our fabulous anniversary trip!!
From our hotel, the San Antonio skyline with the Riverwalk below:
A fun one of the Torch of Friendship and the Tower of Americas:
Random along the Riverwalk: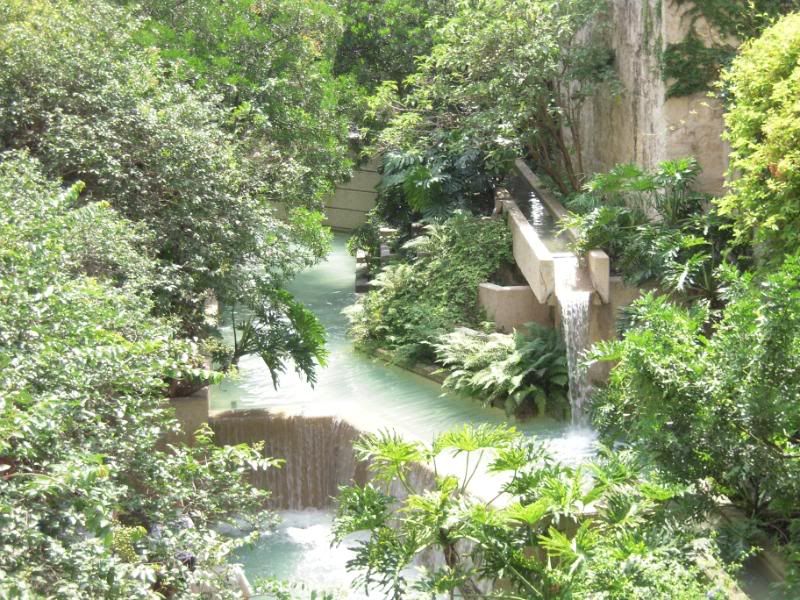 Happy Anniversary Sweetheart!!
I love you more!