It's Wednesday! That means three things...we're more than halfway to the weekend; it's Show & Tell time at Stirrup Queen's; and it's a walk down Disney memory lane here!
For my conference last month, I stayed at the Walt Disney World Dolphin. For those that don't know the ins and outs Disney resorts, the Dolphin is one of only a few non-Disney hotels within the park grounds. The Dolphin (and neighboring Swan) are actually managed by Starwood (of Sheraton and Westin fame), but guests are offered most of the benefits Disney provides to guest staying at "full" Disney resorts (like the All Stars or the Grand Floridian). One of those Disney included services for Dolphin guests is Disney Transport...that's a seat on one of the multitude of Disney buses that take you anywhere and everywhere you need to go!
The Dolphin shares buses with Swan, Boardwalk, Yacht Club and Beach Club. Since it is also an Epcot resort, it has back entrance access to Epcot via Friendship Boats and a walkway. I guess most people who stay at a one of these five resorts just takes the back entrance and walk or ride back to the resort after Illuminations. What fun is that?
On Tuesday night, after my whirwind tour of Epcot, I watched Illuminations from the China pavillion in World Showcase. This is pretty much my favorite place to watch Illuminations, because I firmly believe that the show is just not the same without the golf ball in the background. China is at the back of the park, and much nearer to the back entrance (at France) than the front. But, I wanted to enjoy every last minute I could at my favorite park. I fought the crowds who were walking in the opposite direction while I took the l-o-n-g way back around the Seven Seas Lagoon, all the way back to the golf ball.
I took pictures and soaked in all that Disney magic that I love so much. Then, I headed out to the bus stops. I stopped a the bus information signs that tell you which stop to line up at for each resort. Oddly, I didn't see the Dolphin (or the Swan, Boardwalk, Beach Club or Yacht Club, for that matter). Seeing my confusion, a gentleman standing there (not appearing to wear a cast member uniform, but he didn't look like a par guest either) asked me where I was headed. When I said the Dolphin he said, "Oh, there's no bus for that. It's usually a taxi." Of course, I then realized that the helpful looking gentleman was actually a cab driver. Not so helpful.
No worries. I knew better than to take his advice anyway. And, I soon saw the sign that said, "Dolphin, Swan, Beach Club, Yacht Club and Boardwalk Guests please take the Hollywood Studios Bus and then transfer to the resort bus." Ok, I imagine this is because Epcot has the rear entrance to these resorts...they just don't offer dedicated buses to and from them from the Epcot front entrance. A trip to the Hollywood Studios parking lot would be no problem except that Hollywood Studios closed an hour earlier. Still unphased, I found the next uniformed Disney cast member and shared my plight. He told me to stand at the Hollywood Studios line and they'd take care of me.
That they did I stood there long enough to watch at least 4, maybe 5, All Star buses load to standing room only capacity. Another 3 Caribbean Beach Resort buses did the same. I was beginning to wonder if my bus was really coming when I was nearly the only person waiting for any Disney Transport bus on my side of the parking lot. Right about then, my very own Disney Transport bus arrived! I had it all to myself...and that was a sight I had never, ever seen at Disney...an empty bus. It was such an alien sight to me, that I had to snap a pic. My cast member driver, on his unscheduled trip to the Dolphin, must have thought I was crazy! But, here it is and I'm glad I captured the moment...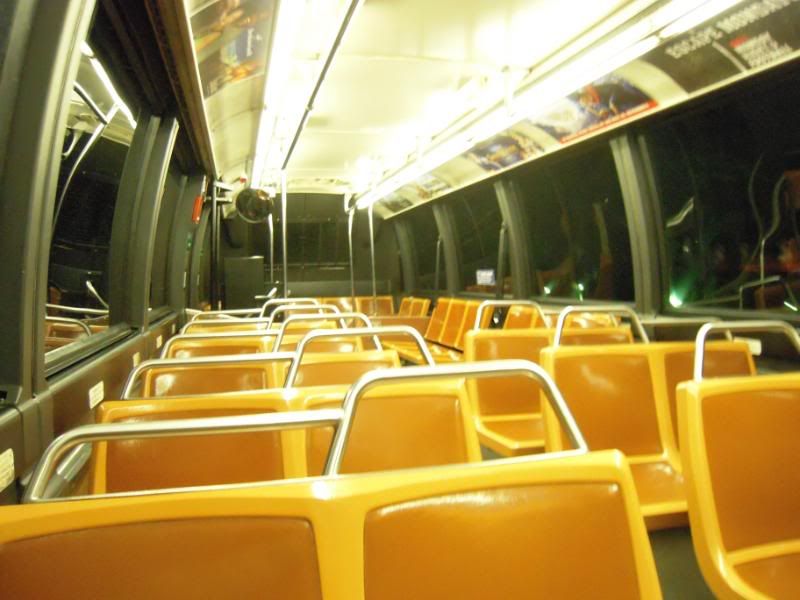 An empty bus actually happened to me twice on this trip! This time and then once on my last day, too (Sorry, no pics of that time! :-) The moral of this Disney story is twofold: 1) Don't listen to the guys that stand by the bus signs outside Epcot. Find a castmember. 2) The week before Epcot's Food & Wine Festival (so, depending on the timing of the Festival, the 2nd or 3rd week of September) is an awesome time to head to Disney! I rarely had to wait in a line at any park longer than 5 minutes...and had an empty bus TWICE! Can't beat that!
Check out what everyone else is sharing for Show & Tell over at
Mel's Place
! Hope to see you at the head of the class next week!